Be the change you want to see in the world
Join the F4T movement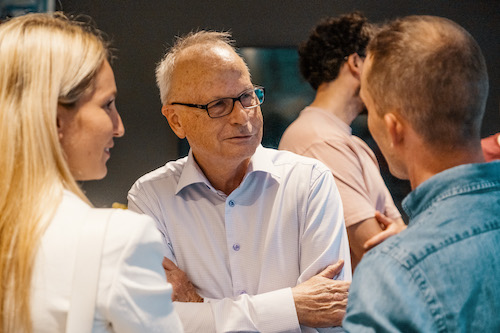 Is this you?
"I want to develop authentic relationships with like-minded business people to explore how I can live out my faith in the market place."
The drive to perform in your work and feeling worn out from religion in event-busy mega churches has prevented you having the quality time with others to explore faith in a causal setting. You are struggling to find a safe place for genuine friendships and purpose where you can engage in stimulating discussion with like-minded people and hear from top speakers who will encourage you in your faith and how it plays out in your personal life and in the market place.
As a consequence, whilst you are highly skilled, you are feeling lonely, unsupported and  under-utilised; wanting to give a contribution but not knowing how or where you fit in. No one should accept being stuck in a situation like this where they feel lonely, unsupported, under utilised and lacking purpose.
We know how you feel. Most of us have spent much of our lives wrestling with the issues of work, relationships and purpose and how faith fits in.
How does this sound to you?
I'm happy to share the mistakes I have made and how I have overcome them and helped guide many people to make good life decisions and to discover greater purpose for their life as well as how to integrate their faith into their market place lives.
The first step is we will build relationship over time, investing time and listening with interest to your story 
Then we will introduce you to other like minded people at a BBQ or Dinner 
And we will invite you to a F4T Group where together with others we can explore the big questions you have 
When can we catch up for a walk or a coffee? / I have a book that I think will interest you / I'll invite you to a dinner with a special guest speaker.

At the end of the day, you'll be clearer and more comfortable with who you are and what you believe. You'll love connecting with like minded people who also want to discover what it is to live a life of greater meaning and purpose. 

You won't have the loneliness that comes from lacking friendships with like minded Christian business people, or the sense of futility that comes from not having clarity about how you can live a life of purpose and integrate your faith into the market place.

You will move from the loneliness of not having genuine connections or family nearby or real community and the frustration of not having a sense of having a God purpose to your life other than being a good Christian at work and busy with church activities, to being connected, valued and accepted for who you are, developing meaningful relationships with others, and being part of a vibrant friendly community who also want to explore a faith that works and discover a life of Christian purpose 24/7 in both their business and life. 
What does the F4T Movement look like?
What Do We Do?
By 2025 we will have 2000 business people in 100 F4T Groups.
Why Do We Exist?
To connect and inspire business people to develop a living, growing faith that impacts life and work.
Our core values
Hospitality – offering hospitality that embraces everyone with a pastoral heart, taking a genuine interest in every person
Generosity – adopting and modelling a 24/7 spirit of generosity with both our time and our finances
Faith – passionately living out our relationship with Jesus and being a guide to help others do likewise
integrity – living a life that is authentic and transparent
Our Promise to our community
We are a community of business people who are passionate to explore a faith that works and discover a life of meaning and purpose.